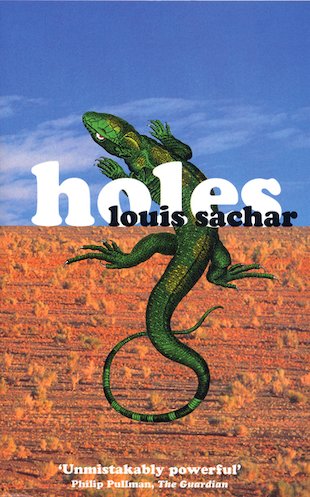 Look inside
Holes
Stanley Yelnats was given a choice. The judge said, "You may go to jail, or you may go to Camp Green Lake." Stanley was from a poor family. He had never been to camp before.
Stanley Yelnats' family has always had bad luck; the fault of a gypsy curse put on his no-good-dirty-rotten-pig-stealing great-great-grandfather. So when he's found guilty of a crime he didn't commit and sent to a boot camp in the desert, Stanley isn't surprised. The evil warden of the camp, who wears poisoned red nail-polish and prowling snake-skin boots, claims that digging a hole each day is the way to turn a bad boy into a good boy. So every day, Stanley must toil in the blazing sun and dig his own hole. But is that all there is to it – or must Stanley dig up the truth? Written in a fresh, surreal voice and set in a boiling desert landscape, this sweeping, cinematic book is impossible to forget.
Winner of the Newbery Medal.
"The most moving, exciting, thrilling book I'd read in a long, long time. I loved it." Malorie Blackman
Who's reading this?
We want to read this book
I am reading this
We have read this book