Five Facts about Chris Bradford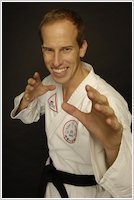 Chris has twenty years experience in martial arts, and is a black belt!
Before becoming an author Chris was a professional songwriter and musician.
Chris once lived in a tree house in the jungle in North Laos.
Chris once supported James Blunt in concert!
Chris has worked on projects all over the world as a volunteer for Raleigh International.