Five Facts about Kaye Umansky`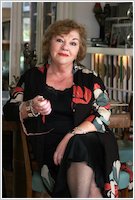 When she was little she wanted to be a glamorous trapeze artist!
Holidays by the sea, the colour red and libraries are some of Kaye's favourite things.
Kaye used to be a soul singer, and still loves music.
Her favourite books as a child were the William books, The Lord of the Rings and The Swish of the Curtain.
Her pet hates include slugs, scratchy jumpers and jumping out of planes!