Interview with Holly Webb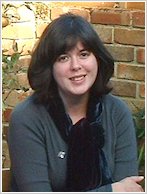 Can you describe Catmagic in three words?
Furry, sparkly and funny (hopefully)…
Who is your favourite character in Catmagic?
Sofie the dachshund.
What first inspired you to write Catmagic?
The idea of a shop full of talking animals – I was walking down the corridor at work (at Scholastic!) and it hit me.
Catmagic features talking parrots, cats and mice – will we get to see any other talking creatures in the following books?
Lizards, rabbits, possibly a pony.
Have you ever wished you had magical powers?
As a child I was convinced I could fly down the stairs. I had amazingly clear dreams about it. I also wanted fairies in my doll's house.
The main character, Lottie, is a very down-to-earth girl who is caught up in exciting circumstances. Is she based on anyone real?
No, but she loves animals and is slightly shy, which I suppose are elements of me.
If you could step through a magic door (as Lottie and Sofie do), where would you go?
Narnia. I think I loved the Narnia books so much because of the talking animals. My absolute favourite was Prince Caspian (so much so that I'm slightly scared to go and see the film!) because of the fabulous Reepicheep, and also the bear who sucked his paws – I sucked my thumb as a child and I suppose I sympathised! I also loved The Horse and His Boy – Bree the horse was so funny. I'm sure that the talking animals in Catmagic and Dogmagic owe a lot to the wonderful Narnian animals – they managed to have such distinctive characters, but still be convincing as animals too.
Catmagic is based in a magical pet shop. If you visited your local pet shop, what three things would you buy if money were no object?
Three cats – a Burmese, a Bengali, and a Norwegian Forest cat.
What are your favourite children's and adult books?
The Narnia books, Back Home by Michelle Magorian, the Chalet School series, Temeraire and sequels by Naomi Novik.
What did you want to be when you grew up?
An archaeologist. I wanted to be an archaeologist because I was fascinated by ancient history. I read loads about Egypt (I still remember how Egyptian corpses had their brains pulled out down their noses), and I had a fantastic teacher called Mrs King who taught what was called Classical Studies at my school, but it basically meant all these amazing stories about Greece and Rome. I don't think at that age (about ten) that I knew editors existed. By about 14 I knew that spending most of your day reading (or so I thought) was what I wanted to do!
What's the best thing about being a writer?
Working from my sofa. I spent about five years commuting to London – sitting on train floors, in luggage compartments, leaning on people's newspapers. So any job which can be done from a sofa is a Good Thing. And it's a comfy sofa.
If you weren't a writer what job would you like to have?
An editor – which I was before.
Where do you write?
On my sofa.
Lots of readers love writing and aspire to be authors when they're older. Could you suggest a first line (or a title) for them to turn into a story?
She dragged open the curtains, yawning a little and blinked at the morning. Then she blinked again. What was that?
Can you tell us a secret about yourself – something that readers might be surprised to learn?
I'm terrified of spiders.