Cathy answers your questions!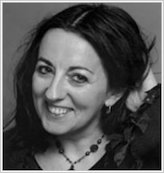 1. I'm a bit of a daydreamer but my teacher says I need to concentrate if I am to write well. Do you get your ideas by daydreaming or concentrating? Megan, age 10
Ideas are often gathered in from observation of what's going on around me, but daydreaming is what makes those ideas and fragments of inspiration into a story. Daydreaming is exercise for the imagination… without it, I wouldn't be writing stories at all! (The concentrating bit is important too, but that comes later, when you have to put it all down on paper…!)
2. Who is your favourite literary character and why? Eve, age 10
Hmm… there were lots of literary heroines I loved when I was growing up, from Pippi Longstocking to Alice in Wonderland; Anne of Green Gables to Katy Carr; Nancy from Swallows & Amazons to Charlotte in Charlotte Sometimes... but my favourite of all has to be Laura from the Little House books by Laura Ingalls Wilder. She was very real to me, and I loved the story of her childhood in the 19th century American west.
3. If you were a superhero, what would you be called and what would your powers be? Charlotte, age 12
I'd be called DreamCatcher, and I'd fly around after dark catching hopes and dreams and making them come true. Hmmm… could be a book idea there!
4. Which of your books related to you the most in your teenage years and how did your experience inspire that book? Ha Hoang, age 12
The only character that is really based on me as a child is Daizy from the Daizy Star series. She's chaotic, clumsy and always on the hunt for her star-quality… and she has a very embarrassing Dad! My dad was full of wonderful, crazy ideas too, so I guess I have a lot in common with Daizy! The older books are definitely fiction, but the characters I am closest to in terms of personality are the quiet, dreamy ones like Hannah, Jude and Skye…
5. How were you inspired to write many, many books that include different people with different backgrounds? Every story is different to another, but I still think there is a very strong bond between them. Maryam, age 12
We are all different – that's what makes human beings so cool, so unique – and I love to write about characters who are not afraid to be true to themselves. I celebrate the differences, but I also feel that underneath the surface we're not so different after all… we all feel happy/ sad/ lonely/ sacred at times. Feelings are what unite us, what we have in common, and they're also what link the books together.
6. If the Earth was invaded by aliens and you could only take three of your things to safety, what three items would they be? Shakira, age 12
If it has to be actual THINGS rather than people or animals, I'd choose my laptop, my green velvet 1930s dress and a very motheaten but loveable dog-on-wheels toy my daughter got for me from eBay last Christmas. Really, though, nothing is as important as the people and animals you love.
7. Will any of your books be made into films and what was your favourite book when you were a child? (Sorry I chose two questions I couldn't decide!) Megan, age 11
Lol, that's OK Megan! I'd love it if some of the books were made into films or TV… that would be amazing! Even better if my readers got to audition for the main parts! There are no plans yet, but if anyone out there is pals with Steven Spielberg, just drop me a line! My favourite book as a child… hmmm, almost impossible to choose just one, but I'll go for Watership Down by Richard Adams, the book that finally taught me that reading was cool!
8. If you could live the life of one on your characters, who would it be and why? Reema, age 14
I'd quite like to be Charlotte, the mum from Cherry Crush and Marshmallow Skye in my Chocolate Box Girls series. She lives in a beautiful, rambling old house on the edge of a cliff in Somerset, she's cool and beautiful (I wish!!!), she has five fab daughters, a lovely husband… AND she runs her own chocolate business. What's not to like?
9. Who inspired you to write books and have you always loved reading from a young age? Antonia, age 13
I have always loved reading, and my dad always encouraged that – we used to haunt the libraries in my old hometown, borrowing armfuls of books each time. As for writing, though, that was the next logical step for someone who loved inventing characters and stories in her head. As soon as I knew you could create a new world and new characters with a story, I was hooked.
10. Has writing about chocolate made you an ever bigger chocoholic or put you right off? Hannah, age 13
I wish it had cured me of my chocolate addiction, Hannah, but I don't think that will ever happen! I love chocolate and I can't really complain… it did inspire the Chocolate Box Girls series, after all!
xxx