Interview with David Melling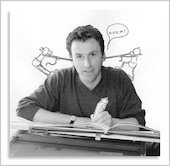 I loved drawing when I was growing up, just like most children really. My dad was a sculptor, so I was always asking him to help me with the difficult bits.
I do remember getting quite cross if the legs on my drawing of a horse looked too wobbly. So I'd rub it out and try again. Every time I made a mistake I'd press the pencil harder into the paper. Then I'd rub it out some more. Eventually, it had four straight legs, but about 18 ghost legs wriggling around in the background. Legs that just wouldn't go away no matter how much I used the rubber. So I'd get all huffy and throw it away. But now I try and get my drawings to look like that all the time: scribbly, lots of movement, as if the horse was really running.
Years later, I worked for a while in a few animation studios. I learned how animators made their drawings move. What surprised me was not seeing it move on the screen. No, their drawings were busy running around and getting up to all sorts right there on the paper. They really did. When I finally started drawing pictures for books I knew this was for me. To draw characters, to try and get them to move, and let them tell the story.
I have done other jobs over the years: teaching English in Italy, cutting grass in a cemetery, even wrapping up toilet rolls for a week (don't ask), but making up stories suits me just fine. I'm very lucky.
Now, sometimes, I show my children how to draw a horse with those tricky legs. And if they're good I'll let them use a rubber…as soon as I've finished with it.
Reproduced with thanks to David Melling.