Five fun facts about Sue Hendra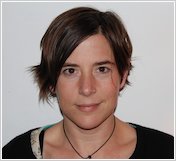 Sue gets lots of inspiration from her young daughter Wanda – who shares a name with the rabbit in her book Wanda and the Alien.
Sue has always loved to create books, even making a series of books called Lucy and her amazing horses when she was a child.
Sue's first job was illustrating a book for Harry Potter publishers Bloomsbury.
Sue used to illustrate completely by hand but now works on computers as well as painting.
Sue lives in Brighton and works in a shared studio with seven other artists.