Interview with Elen Caldecott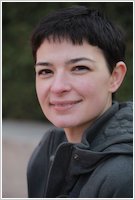 What are your 5 favourite books, and why?
Holes by Louis Sachar – I love it because it is so elegantly constructed. The story threads are each so readable alone, but together they form something really special.
Catch 22 by Joseph Heller – It was difficult to get into, but it was really rewarding. The scenes are presented out of sequence and you have to work really hard to find the plot. So it makes you think about the story. Also, it's very funny.
Pride and Prejudice by Jane Austen – what's not to love? It's the perfect lazing around and eating chocolate book.
Framed by Frank Cotrell Boyce – It's set near to where I grew up, so I recognise the landscape. Also, it has a perfect mix of adventure and real life which I love.
Ballet Shoes by Noel Streatfeild – I wanted to be all of the Fossil sisters when I was younger, even Poppy and she's not even nice! But I loved reading about girls with talents.
Who is your favourite book character?
I love Yossarian in Catch 22. He sees the world in such a clear fashion, but it all gets mixed up and confused around him. He deals with that is such funny, yet heart-breaking ways.
What was your favourite book when you were a child?
I devoured pretty much all of Enid Blyton's books. But my favourites were the Malory Towers series. As soon as I finished the last book, I would just turn straight back to the first one again.
Who or what was your biggest influence in deciding to become a writer?
I had a teacher in primary school who used to praise my stories. I remember being really pleased that she thought I could do it. But I do come from a very bookish family, so quite often we can all be in a room reading and not speaking! It's quite companionable, really.
What inspired you to write How Kirsty Jenkins Stole the Elephant?
Boredom! I wrote How Kirsty Jenkins Stole the Elephant after working as a security guard in a museum. I walked around the galleries, getting more and more bored, so I started making up stories in my head. And one of those stories was about a girl who wanted to steal a stuffed elephant from a museum not unlike the one I was standing in!
If you could require everyone to read just one book what would it be?
The Very Hungry Caterpillar by Eric Carle. But you have to do it when you're three years old and sat with an adult reading it aloud to you will you put your fingers in the holes. If that doesn't inspire a love of books then nothing will!
What's the best thing you've ever written?
I always have to believe that the thing I'm working on right now is the best thing I've ever written, otherwise I'd never finish anything!
When did you start writing?
In junior school. Though I didn't really show my work to anyone for years and years. I began writing more seriously – with an eye to writing a novel – in 2005.
If someone wanted to be a writer what would be your tip for them?
Read and read and read. Especially contemporary books in the genre you want to write in. Learn from what you've read.
Is there any particular routine involved in your writing process (favourite pen, lucky charm, special jumper)?
No! I have to snatch writing time and space. My laptop sits on the dining table, which is next to the telly in the living room. It is often noisy, with other people using the space. I just have to ignore them and get on with it!
What book do you wish you had written?
Holes. It's so good. If you haven't read it, then stop reading this immediately and go and get your hands on a copy.