Jacky answers your questions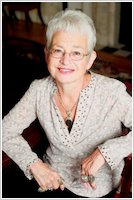 Were you a good or naughty school girl? Adriana, aged 10
I was mostly a good girl – but just occasionally I broke the rules – and once I lost my temper and shouted at a teacher who was being very unkind to my friend.
If you had to choose the most memorable moment from your childhood, what would it be? Ellen, aged 10
I think it was going on holiday to Bournemouth when I was eleven. It was so beautiful then and the sun shone every day and I made some special friends.
Which of your books was the most fun to write? Charlie, aged 9
I think I liked writing Sleepovers most because I liked inventing all those birthday parties with their special cakes!
When I read your books I always imagine myself as one of the characters. Do you ever do this when you write your stories? Hannah, aged 12
I always imagine myself as the main character telling the story.
Why do you always wear a lot of rings? What do they mean to you? Amy-Anne, aged 13
I don't wear quite as many rings as I used to – but I still wear more than most people. I just like the way they look.
What piece of advice would you give your younger self? Orli, aged 12
Try not to worry so much!
If you had to choose another book to write a sequel to, which would it be? Lydia, aged 11
Perhaps I might write a sequel to Little Darlings one day – so many children have asked me what happens next to Destiny and Sunset.
If you had not become a world famous author, what do you think you would have been, and why? Emily, aged 10
I'd have been very happy to be a bookseller. It's always been a favourite fantasy of mine to have my own bookshop.
How do you understand us teenagers so well and how do you keep up to date with issues that are relevant to what we are going through now? Sophie, aged 13
I can remember all the things I worried about when I was a teenager and I can imagine what it's like for young people nowadays. I also get so many letters and emails from young people that it's easy to keep in touch.
If you could meet one of your characters, who would it be, and why? Jenny, aged 12
I'd like to meet Hetty Feather – I like her sparky character and she could tell me all about life in Victorian times.