Interview with Rod Campbell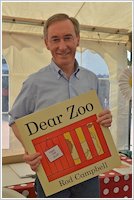 What inspired you to write Dear Zoo?
Seeing a flap book (rare 30 years ago) made me realise how judicious use of flaps could draw in pre-readers to books and the reading process, and it stimulated me to use flaps in a simple story with repetitive elements. Young children love animals, flaps suggested boxes or crates for them, and quite honestly, the idea formed almost spontaneously in my mind!
What do you think makes a classic children's book?
A classic children's book is one that speaks in the same way to succeeding generations, and perhaps it is the combination of storyline, illustrations and 'idea' that give an integrity and wholeness to what is going on between the covers of the book, making it a real experience for the reader.
Why do you think Dear Zoo has stood the test of time?
Well, children love lifting the flaps (even when they know what lies beneath!), they soon catch on to the repetitive text and reacting to the different animals, and of course the story ends on an up – to the child, a logical and satisfactory conclusion!
If you could have any animal sent home to you in box what would it be and why?
I think children soon realise that having an animal sent from the zoo to you at home has certain disadvantages! I think a cat or dog would suit me very well. Perhaps a nice lively Jack Russell! Failing that, a nice plump tabby cat that sits on your lap the minute you sit down and purrs with pleasure!