Five Facts About Chris Riddell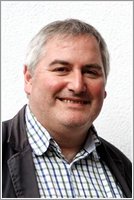 He is one of very few illustrators to twice win the Kate Greenaway Medal, for Gulliver and Pirate Diary.
In 2014 he collaborated with Russell Brand on a new version of The Pied Piper of Hamelin.
The iconic Raymond Briggs – of The Snowman fame – was his tutor at art school.
His inspirations include Arnold Lobel, Quentin Blake and Arnold Lobel.
His favourite childhood books include The Cat in the Hat and Flat Stanley.