Interview with Frank Cottrell Boyce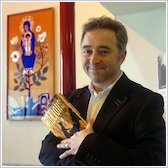 When did you realise you wanted to become a writer?
When I was in year six, I wrote an essay in class that had some jokes in it. The teacher thought it was funny so she read it out to the class. I still think if she'd told me to read it out, I would have grown up wanting to be a stand-up comedian. But there was something lovely about sitting at the bak, watching her get my laughs.
Were there any books that inspired you as a child?
The Wizard of Earthsea by Ursula le Guin. It's amazing.
What other jobs did you do before you became a writer?
I was a punch and judy man on Morecombe beach! We had a little dog called Banjo who collected the money in a hat for us. But one day he got mugged and after that he was too depressed to work.
What advice do you have for mybooks members who want to become writers?
Keep a diary. Not a big soulful one. Buy yourself an oxfam diary – which has great pictures but not much room to write – and just write one sentence per day. Not about yourself. About something funny / sad / strange you saw or heard. It's a great discipline and at the end, you've got a really good read.
You have seven children! Have they read your books, and if so what do they think of them?
I gathered them all around the fire the Christmas before last and read them all Cosmic. They all said it was rubbish and I should start again. I sent them to bed without any chocolate. But it turned out that they were right of course and its loads better now.
In Cosmic, Liam is a twelve year-old who takes advantage of the fact that he is often mistaken for an adult. Where did this idea come from?
One of my sons has a friend who had one of those growing spurts and now looks like a grown up. I think it's really hard when that happens. Also they look quite funny togther – like Stan and Olly.
Would you like to go into space like Liam?
Oh yes. I haven't given up yet! My plan is to get Cosmic made into a movie and have them send me up in a rocket as research!
Millions started out life as a screenplay, and became a book later. Are any of your other books heading for the big screen?
We're just about to start filming Framed. Hopefully it comes out this Christmas.
What's next for you?
I'm working on another book. And on a big animated film for Dreamworks based on Terry Pratchett's genius book, Truckers.
Thank you for answering our questions!