Star Wars Day
4 May 2019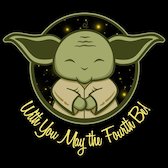 MAY THE 4TH BE WITH YOU
Star Wars Day is a special, annual celebration of the galaxy far, far away. What started as a pun warmly shared by fans has become a fully fledged Star Wars holiday!
Star Wars fans host movie marathons, share pictures and posts on social media, cook Star Wars recipes… You name it, they do it – there are no wrong ways to celebrate May the 4th. What will you be doing to honour the Star Wars saga?
Click on the picture of Yoda to discover all of our Star Wars books.
May the 4th be with you.