Happy birthday, Harry!
14 Jun 2019
HAPPY BIRTHDAY

, HARRY!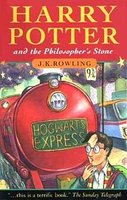 Harry Potter and the Philosopher's Stone turns 22! On 26th June in 1997, Harry Potter and the Philosopher's Stone (the first book in the famous series by J.K. Rowling) was published.
When the first years arrive at Hogwarts school, they have to put on the magical sorting hat which decides which of the four school houses they will belong to.
The sorting hat speaks to them and says what it can work out about their character. For Harry it says "Plenty of courage, I see. Not a bad mind either. There's talent, oh my goodness, yes – and a nice thirst to prove yourself…"
What do you think the sorting hat would say about you?
Since the release of this first book, the series has become hugely popular all over the world. Kids and grown-ups alike have loved joining Harry and his friends, Hermione and Ron, on their spell-binding adventures.
---