Interview with Philip Ardagh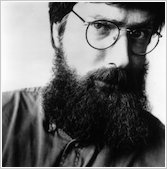 Favourite children's book as a child?
How to Change Your Own Nappies and Influence People (I was a highly intelligent baby.)
Favourite children's book for all ages?
The Bumper Book of Favourite Children's Books for All Ages
Favourite children's book to read aloud?
One of my own, Of course. On the radio, so I get paid.
Favourite children's book for a rainy day?
Preferably one with a waterproof cover, non-running ink and a built-in umbrella.
Which character from a children's book are you most like?
Mr Maggs in my own series Unlikely Exploits. He and I have similar concerns, such as the letter 'Q' appearing too early on in the alphabet when it should be nearer the end with V,W,X,Y and Z. Oh, and Beardy Ardagh in my 'Grubtown Tales' because he is - almost - me.
Did you write as a child?
You bet! In old diaries, on scraps of paper… I've loved writing since before I could actually write. (I did good squiggles.)
Where do you write?
As an adult, I used only to be able to write in my study. Now I have a study and an office but I can write just about anywhere, so long as I have something to write with. And on.
Where do you get inspiration for your books from?
I lick the backs of certain toads. (I'm lying. I've never knowingly licked a toad in my life.) My head is full off stuff. Writing is simply getting that stuff out and into some kind of shape so that I can share it with others.
What's your proudest moment?
My proudest (professional) moment was being elected pope, even though I'm not even a Catholic. Sadly, it turned out to be a dream.
What's your most embarrassing moment?
Ringing my sister to tell her that I'd been elected pope then, halfway through the call, realising that not only was the whole pope thing a dream, but that I don't have a sister either. Embarrassing or what?
Tell us a joke!
I get paid to write.
What were you like at school?
A boy of above-average height.
What was your favourite subject at school?
English language. (I even speak a version of it to this day.)
What was your least favourite subject at school?
Maths and French, or French and Maths. I have nothing against mathematical French people, it's just that my brain isn't wired for those subjects or, maybe, the method used to (try to) teach me them to me.
Do you have any pets?
An imaginary tapier called Gilbert, not that he ever answers to his name. I don't think he even loves me.
If you were an animal, what animal would you be?
The last time I checked, I was an animal: a hairy mammal of the homo sapiens sapiens variety. I think I still am.
Favourite colour?
No thanks, I've already had one.
Favourite smell?
My second-favourite smell is the smell of my skin under my watchstrap, immediately after I've taken my watch off. (The first is a secret.)
Favourite food?
It's easier to say what food I don't like: shellfish. Nothing personal. I mean as food. They could have great personalities.
Favourite biscuit?
I'm not big on biscuits. Some have let me down in the past when I've tried dunking them in a hot beverage, so I've moved on.
Favourite music?
Not telling.
Favourite film?
Favourites include: The Great Muppet Caper, the original 1933 King Kong, and ones with Cary Grant in them (the black and white ones).
Which of the following totally rules? Home and Away or Neighbours?
After much consideration, I'd say Home & Away at the moment. (It could change.)
EastEnders or Coronation Street?
I don't watch either but if I had to watch one it would be Corrie. The trailers for _ EastEnders_ always seem so dreary, with people with heads like potatoes trying to 'sort out' other mouthy people (and one or the other of them falling down some steps).
X-Factor or Strictly Come Dancing?
I've never watched either.
Richard and Judy or Fern and Phil?
There's no comparison.
James Bond or Jason Bourne?
For laundry, Bond. If I needed help with flat-pack furniture, Jason. (I feel we'd be on first-name terms.)
Cake or biscuits?*
I've already eaten, but I wouldn't say no to a nice ricecake with a dash of Cajun hot-pepper sauce. (Not that it would understand me.)
Ketchup or mayonnaise?
Ketchup for chips, mayonnaise for most other things including swimming and Christmas cards.
Christmas or summer holidays?*
CHRISTMAS DAY!!!!
DISCLAIMER: Philip Ardagh has insisted that we make it clear that, on other occasions, he might give completely different answers to one or all of these questions, so these particular answers should be treated with contempt, as one might a worthless guttersnipe or herring trying to play on your sympathies (or on your shins with tiny little drumsticks).