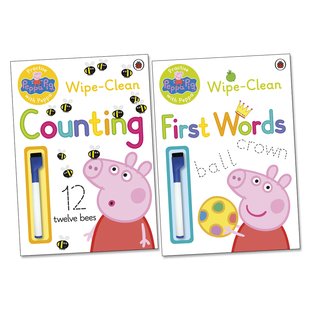 Look inside
Peppa Pig: Practise with Peppa Wipe-Clean Learning Pack
Need a holiday brain boost? Peppa's wipe-clean learning books have a lovely fresh, summery look. When the sun comes out in the holidays, it can be tempting to let your brain snooze. Uh-oh – big mistake. This is not a good start for your new term back at school. (Especially if you're starting for the first time.) Luckily, Peppa has made these magical wipe-clean activities, all with bright colour art. They make first learning feel like child's play. Which is exactly what they are.
Wipe-clean workbooks with charming colour pictures
Peppa's optimistic guidance really motivates children
Each book includes a wipe-clean pen with eraser
Helps kids practise without worrying about mistakes
#starting-school-top-10
Fun Stuff
Activities
Peppa loves to ride her bike, and now you can colour her in!

Everyone loves to jump in muddy puddles, especially Peppa and her family. Use your brightest colours!

Download your very own Peppa Pig certificate for piggy-tastic reading!
Who's reading this?