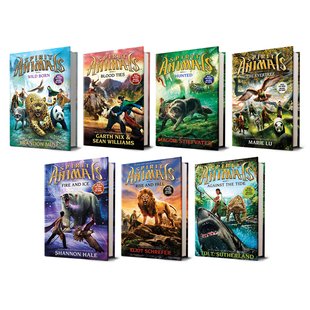 Look inside
Spirit Animals Pack x 7
Big-hitting authors plus an online fantasy game: this is tasty like ketchup with chips. Don't stay stuck in reality. Maggie Stiefvater. Marie Lu. Shannon Hale. Garth Nix. The greatest names in fiction, all together in one epic fantasy quest where you get to play along! Books. Games. We love 'em both. So why be made to choose? Get the series that gives you both. (Plus your very own spirit animal.) Magical fantasy you can be part of in between homework chores.
Play at www.spiritanimals.scholastic.com
Thrilling interactive fantasy with an online game to play
New York Times bestselling series featuring top authors
Includes Marie Lu, Maggie Stiefvater and Shannon Hale
From the creators of The 39 Clues and Infinity Ring
#sprt-2
Who's reading this?
We want to read this book