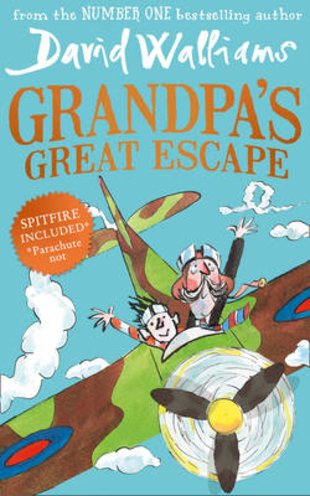 Look inside
Grandpa's Great Escape
The funny proof: not all oldies are fossils! Jack's rebel grandpa and his Spitfire antics will make your heart do loop the loops. Maybe you've noticed that David's genius stories have been a little dark of late. Demon Dentist, Awful Auntie. Is the world really such a twisted place? But don't put away your bag of sugared almonds just yet. This glorious adventure will bring a joyous little tear to your eye. Jack's grandpa wears his slippers to the supermarket. He serves up tinned tongue for dinner. He often forgets Jack's name. But he hasn't forgotten how to fly a Spitfire. And if you were trapped in a rubbish old folks' home, wouldn't you plan a Great Escape?
The latest bestseller from the incredible David Walliams
David's books include Mr Stink and Billionaire Boy
This funny genius is regarded as a Roald Dahl for today
Hilarious pictures by Tony Ross all the way through
#black-friday-2015
#xd-crown-jewels
#top100-092016
#top100-ages9to11
#rr-year5
Who's reading this?
We want to read this book