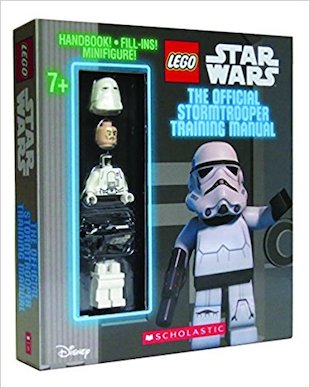 Look inside
LEGO® Star Wars™: The Official Stormtrooper Training Manual
Joining the Empire and becoming a stormtrooper is the adventure of a lifetime – but it comes with a few challenges. On the plus side, you get to spend time telling people 'these aren't the droids you're looking for'. But you've got to be prepared to hit your head on doorways, shoot at people and miss, and crash into trees on your speeder bike. (All while keeping your helmet on.) Are you prepared? You are now, because this fun guide will get you ready!
Magnetic-closure file with handbook and activity book
Includes a buildable Imperial Snowtrooper minifigure
Find out how to survive and thrive as a stormtrooper
Test your stormtrooping skills with cool activities
Not available to buy in: Anguilla, Guam, Johnston Island, Midway Islands, Northern Mariana Islands, Puerto Rico or Wake Island.
#lego-7-11-reads
#gift-guide-xd-film-tv
#gift-guide-xd-activities
#film-tv-november-17