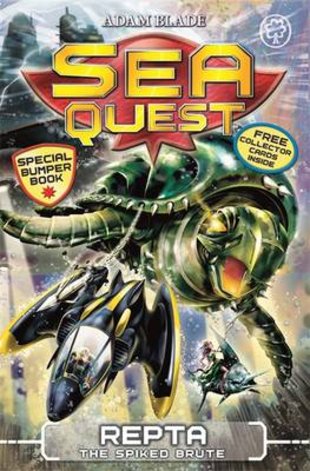 Look inside
Sea Quest Special #6: Repta the Spiked Brute
He's got a spiky temper and the Repta-tation to match. Say hi to Max's latest fiendish foe! Max and Lia are on an urgent rescue mission to the Sumaran settlement of Astar. It's under attack from a fierce moving city from the Primeval Sea. When hostile forces attack your home, what do you do? You fight back! But how DO you fight back against a terrifying living weapon like Repta the Spiked Brute…?
A bumper Sea Quest special with free collector cards
192 action-packed pages of space adventures and battles
Thrilling sci-fi in a world of Robobeasts and ocean planets
Adam Blade's Beast Quest has sold over 14 million copies
#seaquest
#sq-1
Fun Stuff
Activities
Here's an action-packed picture of Silda the Electric Eel for you to colour!

Dare you dive in? Download cool Max wallpaper.
Who's reading this?
We want to read this book