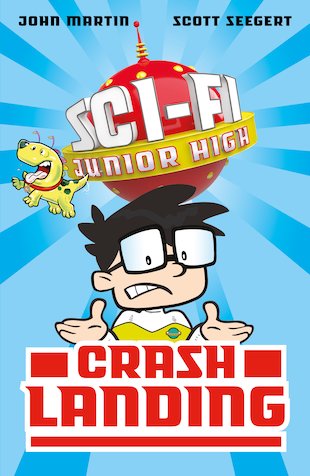 Look inside
Sci-Fi Junior High #2: Crash Landing
An alien dog! A mad scientist! A universe of trouble! That's what you get when you send a (sort-of) average human kid to middle school – in space! Kelvin is the new kid at Sci-Fi Junior High, a floating space station filled with alien kids. For better or worse, he's arrived just in time for the annual school dance: the Galactic Get Down. Kelvin is desperate to take the luminous Luna, whose species literally glows. But since being caught out in his whopping lie about being a Mega Super Genius, Kelvin doesn't stand a chance. What he needs is a way to become super-cool, so that everyone forgets his shaming fib. And Kelvin might just get that chance when mad scientist Erik Failenheimer escapes from prison, kicking off a battle to save Sci-Fi Junior High from imminent doom. Let's dance!
A laugh-out-loud sci-fi adventure with a school setting
By the superb creators of Vordak the Incomprehensible
Middle School meets Star Trek at the edge of space
Fabulous illustrations bring Kelvin's dilemmas to life
Who's reading this?
We want to read this book