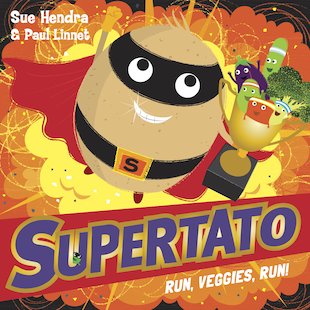 Look inside
Supertato: Run, Veggies, Run!
It's the supermarket sports day. Ready steady veggies! Your healthy veggie friends can't wait to take part. This is no time to veg out! But the Evil Pea (surprise surprise) isn't playing fair. Who can stop this rotten green cheater? Hmm… someone with eyes everywhere, and a fearless sense of justice. Can you guess? This calls for POTATO POWER! Your favourite super spud returns in this sporty picture book: as bright and brilliant as ever – and, we think, even funnier!
By the acclaimed creators of Barry the Fish with Fingers
Cheeky fun with a healthy message: veggies plus sport!
The first Supertato book won the Hampshire Book Award
Sue Hendra's bright, wacky artwork is a joy to look at
#funnybooks-springclub-17
#editors-picks-0617
#snowball-reading-list