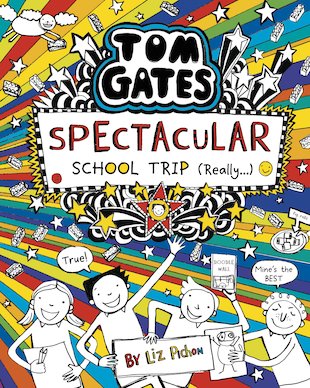 Look inside
Tom Gates #17: Spectacular School Trip (Really...)
Happy face or sad face? The future of Tom's school trip depends on an emoji! Welcome back to the AMAZING world of Tom Gates! But right now, it's not looking quite as amazing as usual. Tom's trying REALLY HARD to stay out of trouble. But he's got THREE sad faces on the school achievement chart. Just one more sad face means Mr Fullerman will ban him from the SCHOOL TRIP. Moany Marcus is making things worse. And now Tom's upset his grumpy sister Delia. Will she wreak revenge? Will the dog stop eating his homework? Will best buddy Derek help out? Will Tom stay – or will he go?
Another spectacular blockbuster from Tom's hit series
An extravaganza of doodles, jokes and cheeky silliness
Tom's first book won the 2011 Roald Dahl Funny Prize
Hugely popular series with over 4 million copies sold
Who's reading this?
We want to read this book