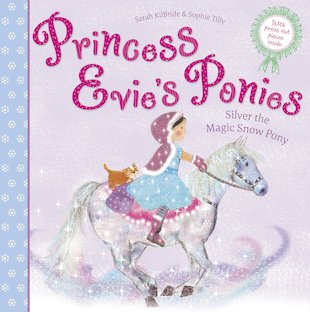 Look inside
Princess Evie's Ponies: Silver the Magic Snow Pony
No need to say goodbye to winter just yet. Sparkles, snow and pony magic! Princess Evie is really lucky. Not only is she royal, but she has her own stable of gorgeous magical ponies. Every time she rides them through a tunnel of trees, she is whisked away to enchanted lands. Now Silver the Magic Snow Pony has whirled Evie into a winter wonderland! There are snow fairies, a red sled, a fluffy white cloak to wear, and jolly snow songs to sing! But will Evie, Silver and Sparkles the kitten be able to help a little lost polar bear cub?
Gorgeous collectible book with free press-out pony
The perfect fusion of magic, ponies and winter fun
Exciting themes of exploration and helping others
Hugely imaginative series which children adore
Who's reading this?
We want to read this book