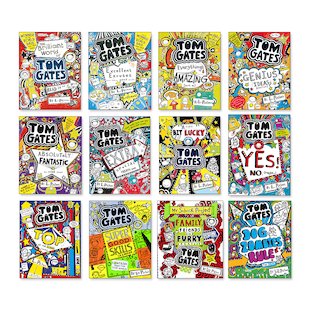 Look inside
Tom Gates Pack x 12
A whopping pack of Tom's super-silly stories, jokes, scribbles and doodles. We'd sell our brains for it. YEAH! Tom's grumpy teacher Mr Fullerman might deny it, but this cheeky schoolkid has made good. He's inspired funny pranks all over the world. (Not to mention a million doodle notebooks.) He's a master of excuses, expert doodler and cool rock guitarist. And a Roald Dahl Funny Prize winner with millions of loyal fans. Basically, he's AMAZING. And if his teacher is jealous – SO WHAT?
Bumper pack from a Red House Award winning series
Tom's first book won the 2011 Roald Dahl Funny Prize
Laugh-out-loud humour and amazing cartoon pictures
Over two million Tom Gates books sold in the UK alone
Fun Stuff
Activities
Have you discovered the brilliant world of Tom Gates?