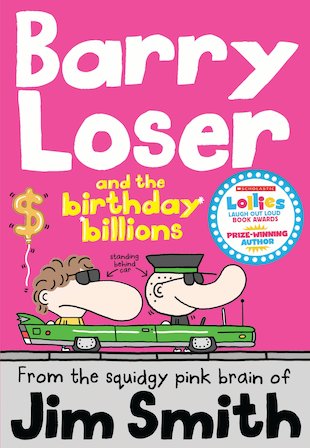 Look inside
Barry Loser #8: Barry Loser and the Birthday Billions
Shortlisted for the 2018 Scholastic Lollies Awards.
Billions of chuckles! Happy birthday to Barry! Or is it? Your fave champ of cheerfulness is all ready to celebrate. He's got a ginormous pile of presents. Best of all, Mum and Dad have got him a Shnozinator 900: the amazekeel new gaming helmet that Barry (and everyone else) wants! It's the best birthday present EVER. That is, until his baby brother breaks it. If Barry was really a loser, he'd lie down and cry. But no! He's already got a cool plan to fix this teensy problem and get really rich. Seriously, nothing keeps Barry Winner down for long!
More hilarious antics with have-a-go hero Barry
Top series that's won the Roald Dahl Funny Prize
Great for fans of Tom Gates and the Wimpy Kid
Author Jim Smith also won a 2017 Lollies Award
#lollies-2018-shortlist
#lollies-2018-6-to-8
#lollies-2018-all
Who's reading this?
We want to read this book