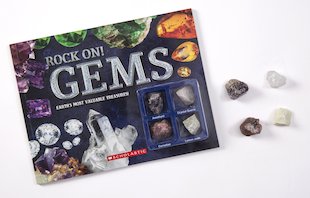 Look inside
Rock On! Gems
Diamonds, sapphires and rubies! Unlike most rocks, gems know how to grab attention. They've turned heads pretty much since humans first popped up on Earth. But gems are much more than sparkly little trinkets. They're a record of billions of years of geological change. From the world's biggest diamond to its most expensive jewels, discover the precious treasures hidden in the ground beneath your feet. You'll discover cool facts, bizarre trivia, amazing photos and strange-but-true tales of cursed jewels and unbelievable finds. Plus – start filling your own jewel box with four fabulous gems to collect!
A dazzling visual guide to precious/semi-precious gems
Includes four amazing gemstones to start your collection!
Heaps of facts about Earth's most precious raw materials
Fun activities, strange-but true stories and amazing trivia