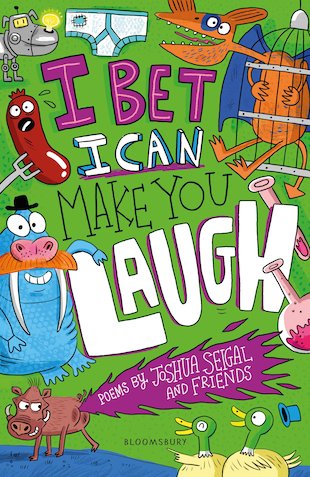 Look inside
I Bet I Can Make You Laugh: The Funniest Poems Around
Winner of the Laugh Out Loud Book Awards 2020 Ages 9-13 category!
If you hate poetry but you like to laugh, here's the perfect poetry book for you! It's compiled by Joshua Seigal, the witty genius who brought you I Don't Like Poetry. And it's filled with super-silly verses to make you laugh – like it or not! (We bet you can't help it!) There are poems about school rules, a verse about a bus that drives backwards, and an ode to homework that eats dogs. A marvellously daft bonanza of mayhem and silliness – perfect if you hate poems. Or even if you like them!
A hilarious collection of poems to get everyone giggling
Bursting with daft verses by favourite children's poets
Compiled by Joshua Seigal, author of I Don't Like Poetry
I Don't Like Poetry was shortlisted for the 2017 Lollies
Who's reading this?
We want to read this book