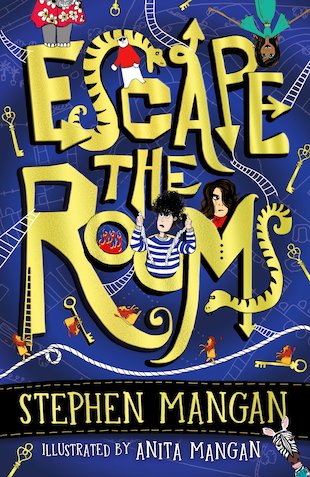 Look inside
Escape the Rooms
Unlock creativity and adventure in your class with special teaching resources, and watch videos from Stephen Mangan.
A high-energy, laugh-out-loud, fully illustrated adventure story by much-loved actor Stephen Mangan and talented artist Anita Mangan. "[Escape the Rooms] is richly imagined and deeply heartfelt, and Anita Mangan's cartoonish and poignant illustrations capture the tone perfectly … It reminded me a little of The Wizard of Oz, with the children on a quest through different lands to get home." Hadley Freeman, Guardian "It's been described as a cross between Alice in Wonderland and The Crystal Maze and it manages to feel both classic and modern at the same time." Good Housekeeping
The last thing Jack expected when he
bungee-jumped
at the fairground was to go plummeting right through the ground into the
weird, wonderful Rooms…
There he must face a
series of puzzles and traps
alongside a mysterious girl called Cally, in order for them to
find their way home.
Throw in a murderous polar bear, hundreds of tiny yet ferocious lions, some mind-blowing riddles, and get ready for a hilarious, helter-skelter
adventure like no other!
Escape the Rooms follows two children dealing with loss on an amazing adventure.
Wildly funny and endlessly surprising, Escape the Rooms is also a story about friendship, overcoming fears and being kind to yourself.
Packed with fantastic pictures created by Stephen Mangan's sister, Anita
Who's reading this?
We want to read this book