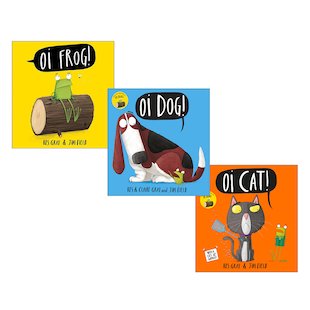 Look inside
Oi Frog! Pack x 3
Oi! Have you heard? There's a new boss in the world of picture books. His name is Frog, and he makes the rules – okay? And the main rule is: frogs DO NOT sit on knobbly old logs. No thanks! They want to sit somewhere comfy! But if frogs don't sit on logs, where do they sit? Hmm… just ask Dog, who isn't looking very happy. As for Cat, he's rather cross too. He liked sitting on cosy mats. But now he's sitting on something that's biting his bottom. Can you guess what?
Laugh-aloud picture books from a bestselling series
Oi Dog! won the 2017 Scholastic Lollies Award
Hilarious rhymes with Jim Fields's cheeky artwork
By the author of the award-winning Daisy books
Fun Stuff
Who's reading this?
We want to read this book