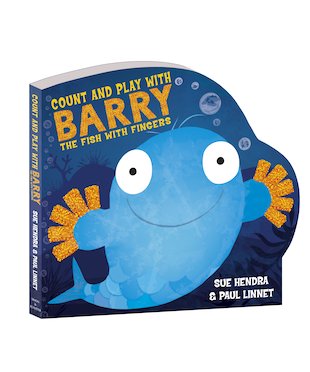 Look inside
Count and Play with Barry the Fish with Fingers
The cutest counting book ever, from the best-loved creators of Supertato. If you were a fish with fingers, what would you do with them? Barry the Fish with Fingers likes to do all kinds of things. He loves painting and knitting, and tickling, and playing piano, and being with his friends. Well – just like you, Barry has five fingers on each hand. (Ten altogether!) Can you use them to help Barry count his five favourite activities? What does he love doing best of all?
A bright, charming way to practise counting from 1-5
Helps little ones discover new activities they might try
By the best-loved creators of Supertato and Snowball
The first Supertato book won the Hampshire Book Award
Fun Stuff
Activities
Draw a line and connect the dots to reveal a fantastic picture of Barry the Fish with Fingers!

Colour this fun picture of Barry!

Match the pairs to find the two odd fish out.

What can you see through the porthole? Download the picture and draw your sea view.

Can you find all the Barry, Norman, Keith and No-Bot words in this puzzle?
Who's reading this?