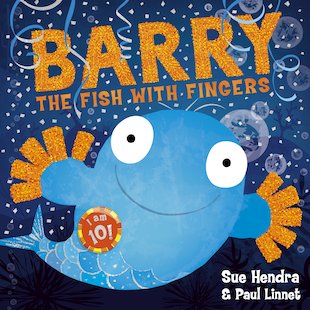 Look inside
Barry the Fish with Fingers (10th Anniversary Edition)
Happy birthday to Barry, a classic ocean hero tickling kids silly for 10 special years! Welcome to a wondrous ocean world of fishy friends and strange sea creatures. They love watching Puffy the Puffer Fish perform his cool bubble-blowing show. Big bubbles, small bubbles, square bubbles! They've never seen anything so amazing – until Barry shows up. Barry is a fish with fingers. He can finger-paint and knit. Best of all, he can tickle! But first Barry needs to cheer up someone who's not feeling quite so tickled: poor old Puffy the Puffer Fish…
A bold and brilliant classic by a favourite author
10th anniversary edition with a super-sparkly cover
Vibrant artwork in Sue Hendra's bold, dynamic style
Uplifting moral that we're all special in our own way
"This is rather fishy fun." Families Magazine
Fun Stuff
Activities
Draw a line and connect the dots to reveal a fantastic picture of Barry the Fish with Fingers!

Colour this fun picture of Barry!

Match the pairs to find the two odd fish out.

What can you see through the porthole? Download the picture and draw your sea view.

Can you find all the Barry, Norman, Keith and No-Bot words in this puzzle?