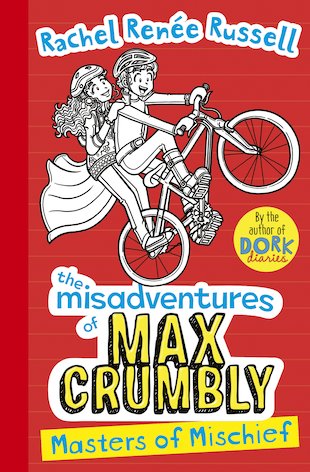 Look inside
The Misadventures of Max Crumbly #3: Masters of Mischief
More laughs with unlikely hero Max. Saving the school totally IS a job for wimps! When we last left our brave hero Max and his trusty sidekick Erin, they had just foiled the plans of some bumbling thieves. Sadly, they were trapped in a smelly and scary dumpster of doom – about to be found by the last people they wanted to catch them! Now, in his latest journal, Max fills you in on what happened next, as he and Erin face foes both old and new. Can they avoid detection (and detention!), while protecting South Ridge School from bullies and bad guys?
More irresistible fun from the Dork Diaries author
Max is an endearing hero full of heartwarming quirks
Winning formula of laughter, cringes and witty cartoons
The Dork Diaries series has sold over 15 million copies
Who's reading this?
We want to read this book