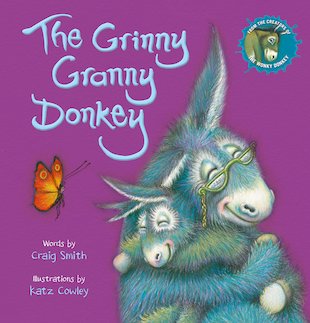 Look inside
The Wonky Donkey: The Grinny Granny Donkey
The Grinny Granny Donkey is the third picture book from Craig Smith and Katz Cowley, the bestselling creative team behind the Scottish Granny internet sensation, The Wonky Donkey!
Meet Grinny Granny – the latest addition to the phenomenal Donkey family. And just like Wonky Donkey and Dinky Donkey, she is silly and funny all at once. With a wonderful rhyming text and illustrations full of humour, The Grinny Granny Donkey will make you hee haw with laughter!
Grinny Granny is the latest member of the Donkey family to have her very own story – and she is just as silly and funny as her family!
A brilliantly funny story by Craig Smith and beautiful illustrations by Katz Cowley guarantee that The Grinny Granny Donkey will become your new favourite picture book.
Also available: The Wonky Donkey and The Dinky Donkey