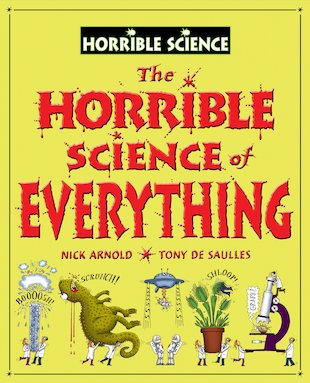 Look inside
Horrible Science: The Horrible Science of Everything
Bored of biology classes? Totally fed up of physics? Couldn't care less about chemistry? Hmmmm. Dare you discover…
Why you're breathing in dinosaur burps?
What poos in your bed 20 times a day?
What happens when you drop a rabbit through the centre of the earth?
If you're sick to death of science, you need THIS BOOK! From the dizzy science of daydreaming to the stunning science of skyrockets, and from the deadly science of dinosaurs to the Ugly Bug Olympics, this whirlwind whistle-stop tour of science shows you the world as you've never seen it before (i.e. VERY FOUL!). Best of all, it's stuffed with the WEIRD and INTERESTING science that you never ever get to learn at school!