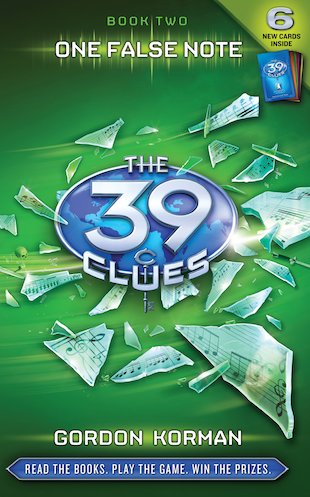 Look inside
39 Clues: One False Note
NEWS JUST IN! Dan and Amy have been spotted on a train, hot on the trail of one of the 39 Clues hidden around the world. BUT WAIT! Police report a break-in at an elite hotel – and the suspects ALSO sound just like Amy and Dan. UPDATE! Dan and Amy have been seen in a car…. no, in a speedboat chase… and HOLD EVERYTHING! They're being chased by an angry mob!!! When there's a Clue on the line, anything can happen!
Follow Dan and Amy on a wild chase through book two of their white-knuckle mission. They're chasing down those clues to find the Cahill family secret: the source of its power and fantastic wealth. Can you join them, help to solve the quest – and win the grand prize of $10,000?
This pack contains the One False Note hardback book plus a game card set in a silver holder.