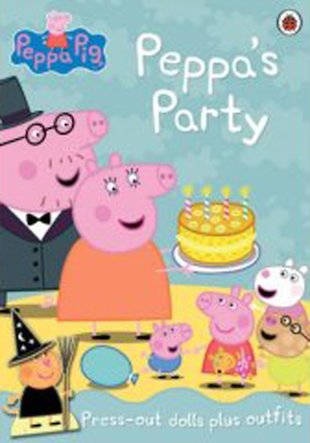 Look inside
Peppa Pig Activity Pair
Peppa Pig loves to play… and I bet YOU love to play too! So why don't you and Peppa take some time to play together? You can go to space, and have fun with sparkly stickers. You can go to Peppa's party, and dress up press-out dolls! There's never a dull moment when you're playing with Peppa. Oink! Oink!
Fun Stuff
Activities
Peppa loves to ride her bike, and now you can colour her in!

Colour this picture of Peppa's mummy reading her book.

Fill in the gaps in this Peppa story by using the words below.

Colour this picture of Peppa's daddy reading his newspaper.

Colour this fun picture of George playing with his spotty ball.

Peppa and George love muddy puddles! Read the poem and shout out the right word when you see a picture.

Download your very own Peppa Pig certificate for piggy-tastic reading!

The words in the quiz are all missing letters. Can you find the right ones?
Who's reading this?