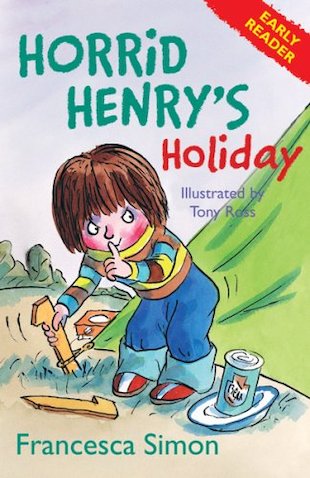 Look inside
Horrid Henry Early Reader: Horrid Henry's Holiday
Got time for a chuckle? Love cheeky giggles? Read this! Bags of silly fun with Horrid Henry to help you start reading on your own. Henry is off on a camping holiday in France. Hurray! It's time for luxury and laziness galore. Moody Margaret has told him all about camping: a huge tent with soft beds, a giant TV, a swimming pool and a disco. So Henry gets a horrid shock when the family arrive at a bare, rocky campsite in the middle of nowhere. How will he escape?
A favourite Horrid Henry story in a short easy reader
Simple text split into highly illustrated chapters
New colour pictures by star illustrator Tony Ross
Ideal reading practice for Henry's younger fans
Fun Stuff
Activities
Check out Horrid Henry's favourite April Fool's Day facts!

Impress your friends with this selection of Horrid Henry's favourite jokes from his latest book.