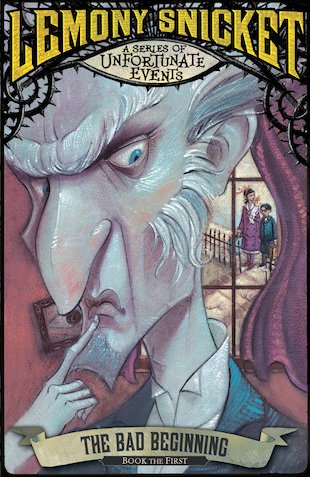 Look inside
A Series of Unfortunate Events: The Bad Beginning
The first book in the Baudelaire siblings' miserable saga of woe and misfortune. From the bad beginning to the bitter end, there's nothing but darkness in store! One day, Violet, Klaus and Sunny receive terrible news. Their house has burned to the ground. Their parents are dead – and they are being sent to live with their rotten relative Count Olaf. He treats them like slaves, but that's not all. He will stop at nothing, not even murder, to get his hands on the family fortune. Will they ever escape the ogre Olaf and his hideous henchmen? Comical, wry, gothic and clever, Lemony Snicket's blackly funny tales are true cult classics. Forget happy endings!
Fun Stuff
Activities
Design your own Lemony Snicket book jacket here.

Can you find all the words in Lemony Snicket's Laborious Language Game?
Who's reading this?