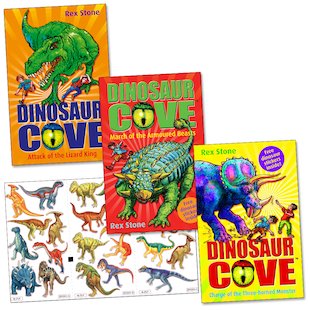 Look inside
Dinosaur Cove Trio
When Jamie moves to Dinosaur Cove with his father, he's looking forward to fossil-hunting on the beach. But when he and his friend Tom discover a seaside cave filled with fossil footprints, it takes them to another world… a world of dinosaurs. It's an amazing prehistoric landscape of strange creatures, mysterious fungi and fruits which smell like sick. The boys can meet living dinosaurs face to face – but they must beware! Danger is always on the prowl!
Fun Stuff
Activities
Here's a pair of battling tyrannosaurs from the Dinosaur Cove series to colour in.

Here's a herd of triceratops from Dinosaur Cove for you to colour in.

Here's a spiky stegosaurus from Dinosaur Cove to colour in!
Who's reading this?