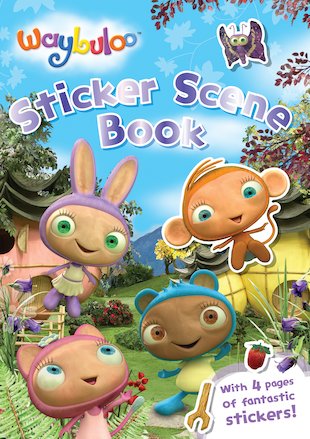 Look inside
Waybuloo Sticker Scene Book
Magical sticker fun in the Land of Nara. Complete each scene and watch the Piplings float with happiness! Join Lau Lau, Yojojo, De Li and Nok Tok as they have all kinds of fun – and help each other out in all sorts of ways. From practical Nok Tok, who loves to use his hands, to dreamy Lau Lau, with her knack for making creative things, each Pipling is full of fresh ideas for making the most of every day! So come along and share in the adventure!
Includes four pages of Waybuloo stickers.
Fun Stuff
Activities
Colour this pretty picture of De Li as she floats up into the sky. Buloo!

Lau Lau loves to paint the other Piplings, and now you can paint her too!

Nok Tok loves to invent things for his Pipling friends. What colours will you make him?

Colour this fun picture of Yojojo playing music for the other Piplings.
Who's reading this?