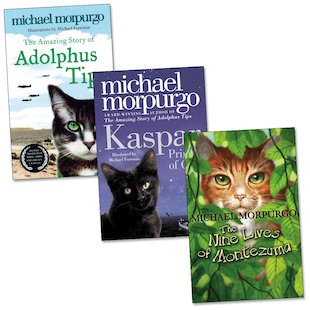 Look inside
Michael Morpurgo Cat Novels Trio
Sleek, haughty, daring – what can compare to a cat? Michael Morpurgo leads you deep into cats' secret territories with three novels that capture all the moods of our feline friends. Travel back to the Second World War to meet brave Alophus Tips, a cat with no respect for barbed wire or army barricades. Admire regal Montezuma, the emperor of the farmyard, who holds all the other farm animals under his command. And embark on a globetrotting adventure with Prince Kaspar Kandinsky, Muscovite and New Yorker, as he travels right around the world – and sails on the Titanic! Told with realism and drama, these are both marvellous stories and magnificent portraits of cats' true characters. A must for cat-lovers!
Fun Stuff
Activities
See if you can find these words from your favourite stories in the grid.

Can you guess which Michael Morpurgo book these clues and quotes are from?

Can you re-arrange these words to discover more fantastic Michael Morpurgo book titles?
Who's reading this?