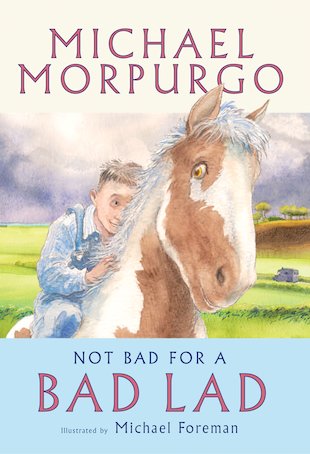 Look inside
Not Bad for a Bad Lad
When a young boy gets a reputation for being naughty at school, everyone says he's a bad lad – and he reacts by becoming one. Leaving school at fourteen, he becomes a thief and eventually ends up in Hollesley Borstal. But kindly Mr Alfie, the stable manager, decides to give the boy a second chance, and lets him look after his Suffolk Punch horses. In a dramatic turn of fortune, the boy's skill with the horses saves him from a life of crime: on leaving borstal, he gets a job working with horses in the army, and finally achieves a lifelong dream of becoming a drum major!
Based upon real facts, this is an enthralling tale of redemption and change from one of our greatest living children's authors. It features stunning colour illustrations from Michael Foreman, as well as a non-fiction section on Hollesley Borstal and the Suffolk Punch horse.
Fun Stuff
Activities
See if you can find these words from your favourite stories in the grid.

Can you guess which Michael Morpurgo book these clues and quotes are from?

Can you re-arrange these words to discover more fantastic Michael Morpurgo book titles?
Who's reading this?