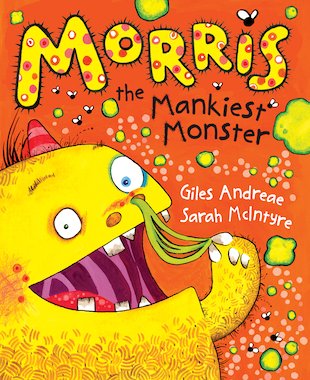 Look inside
Morris the Mankiest Monster
Loveably disgusting. Like Whiffy Wilson with more snotballs. Giles Andreae is a star. Do you think you've met some yucky little monsters? Perhaps you're one yourself. But Morris will be the muckiest little monster you've ever come across. His shoes are filled with squelchy stuff. Potatoes grow out of his pants. He's sweet, charming… and really disgusting. Want to give him a hug? Jaunty rhymes plus truly monstrous artwork: this is one super-yucky story. More gross stuff to spot than you'd find lurking in your least favourite school dinner.
Fun Stuff
Activities
Do you love Morris the Mankiest Monster? Make your very own monster here!

Bits and bobs to help you create your own yucky monster!

Inspired by Morris the Mankiest Monster? Create your own monster here!
Who's reading this?
We want to read this book