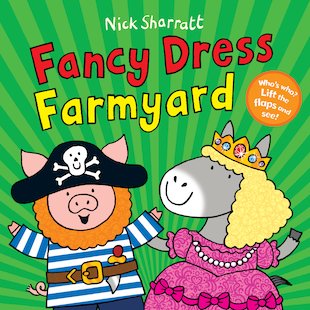 Look inside
Fancy Dress Farmyard
"There's a party at the farmyard! We're all in fancy dress. You'll love our brilliant costumes. Now, who's who? Can you guess?"
It's the farmyard fancy dress party. Peekaboo! Who's who? There are pigs playing at pirates, and Duck is a superhero. But who is that wizard? Lift the flaps to see! One great book with all your favourite things: peekaboo flaps to lift, bouncy rhyming text and lots of animal noises to repeat. Farmyard fun, zany pictures and madcap mix-ups: great stuff from a true picture book superstar.
"The king of children's illustrators." Junior magazine
Fun Stuff
Activities
Design a mixed-up animal like Nick Sharratt.