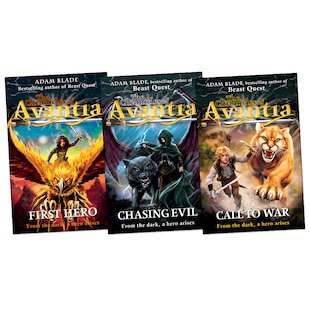 Look inside
The Chronicles of Avantia Trio
An epic saga of deadly beasts and brutal combat, set in the world before Beast Quest! Avantia stands on the brink of an abyss. Dark armies, led by a malevolent warlord, muster on its borders. But destiny has chosen an unlikely hero to fight the threat. Fifteen-year-old Tanner is no ordinary boy. Son of a murdered father and abducted mother, his life is steeped in tragedy. As the Chosen Rider of ferocious young flame bird Firepos, it is up to him to turn back the tide of war that engulfs the land. Out of the dark, this young hero arises, finding other Chosen Riders to help him on his quest. But can Tanner and his companions find the strength to beat back the coming evil?
Fun Stuff
Activities
Download an exclusiveChasing Evil avatar!

Download exclusiveChasing Evil wallpaper!
Who's reading this?