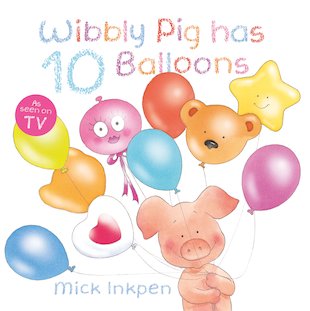 Look inside
Wibbly Pig Has 10 Balloons
Counting with the cuddliest piglet in the world. He makes all you lovely readers melt like butter. His perky little ears, his bashful smile: he's just so, well, huggly. Now Wibbly Pig has ten balloons. But not for very long! He shares them out among his friends. Soon there's only one. But then Big Pig's spoiled sister comes along. Is Wibbly's precious last balloon about to become none? Mick Inkpen (who also made Kipper) returns with a pop and a bang in this cuddly counting rhyme. Yes, there is a happy ending. Storytime bliss.
#world-book-day-2016
Fun Stuff
Activities
Colour in this picture of Wibbly Pig and his fabulous party bag!

Wibbly Pig has been to a party with Pigley. Use your favourite colours to colour him in.

Ask a grown up to help you make Wibbly's favourite easy-to-make banana cake, perfect for a tea party treat!
Who's reading this?