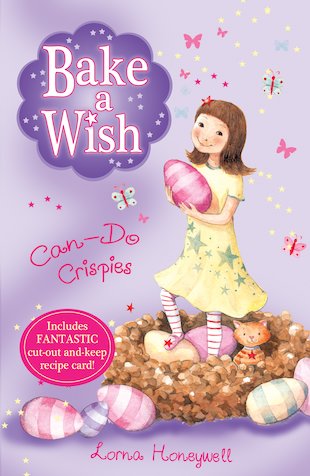 Look inside
Bake a Wish #2: Can-Do Crispies
Lily is performing in the school Easter Parade, but she's very nervous. So nervous, in fact, that she keeps forgetting the words to their song! What can she do? Luckily, Grandma's 'magical' baking jar has just the right recipe to help – scrumptious chocolate Can-Do Crispies! Just one bite makes Lily feel much better straight away. With her confidence back, the Easter Parade is sure to turn out deliciously!
This oh-so-sweet story includes a scrumptious cut-out recipe card for baking your own feel-good treats!
Fun Stuff
Activities
Need to feel confident? These Can-Do Crispies should do the trick!

Eat Feel Fearless Flapjacks and you won't be scared anymore!

Cheer someone up with Feel Good Fairy Cakes!

Need a pick-me-up? Try Get-Better Jelly!