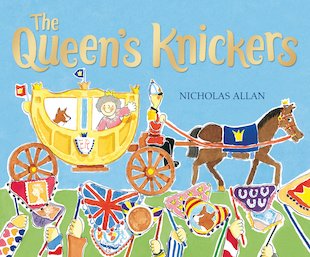 Look inside
The Queen's Knickers
Even Her Majesty can't escape Nicholas Allan's naughty humour. She wears a crown on her head. But what's she wearing…? Tee hee. The crown jewel of your picture book shelf (it even has a sparkly cover). Massive giggles by the cheeky genius behind Father Christmas Needs a Wee. We know you've always wanted to peek into the Queen's knicker closet. Well, here's your chance. The Queen has loads of majestic undies to choose from. Her cosy 'at home' pair with corgis on the front. Special 'garden party' ones for summer days. A woolly Balmoral pair. What knickers should she choose for all her VIP events – starting with a school visit?
Fun Stuff
Activities
Create a fun design for the queen's knickers!

Make knickers bunting, design your own royal pants and much more!

Can you find the royal words?
Who's reading this?