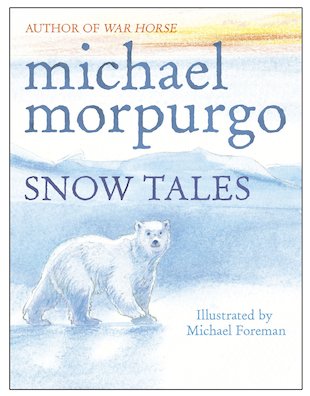 Look inside
Snow Tales
Be whisked away into an Arctic wilderness and explore the majestic landscapes of the frozen North in this beautiful pair of classic Morpurgo nature tales, Rainbow Bear and Little Albatross. When a polar bear grows tired of being a white creature in a snow white landscape, he dreams of soaking himself in all the colours of the rainbow. Will his wish be granted? Next, a little albatross finally grows big enough for his mother and father to leave him at home alone. But danger threatens from a hungry enemy… Told with all of Michael Morpurgo's lyrical power, these wondrous stories capture the snowy magic of the North Pole and the wild creatures there.
Fun Stuff
Activities
See if you can find these words from your favourite stories in the grid.

Can you guess which Michael Morpurgo book these clues and quotes are from?

Can you re-arrange these words to discover more fantastic Michael Morpurgo book titles?
Who's reading this?